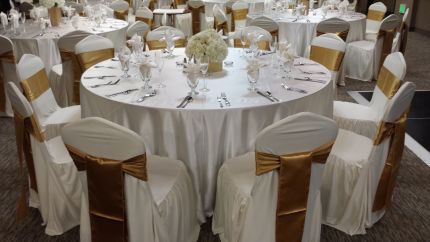 ~Upon entering our hotel you will be greeted with modern, sophisticated style and friendly employees.
~Spacious foyer leading up to banquet rooms lined with large potted palms, floor length windows and access to outside.
~Neutral tones that accent any decor or theme.
~Adjustable lighting to create the perfect ambiance.
~White tablecloths with choice of napkin color to enhance your special event.
~Mirrored tile and 2 votive candles placed on each table to add to the beauty of your centerpiece.